Colonia Tovar – the little German spot of Venezuela
Venezuela is a country full of surprises. This tropical region has tons of places to go on vacations or just spend a weekend of relax and good food. In this case, the little German spot of Venezuela is the perfect spot to do the latter activities.
The Colonia Tovar is one of the best places to go on vacations in Venezuela and spend quality time with your family or your partner. Great weather, craft beer and typical German food is what you are going to find if you go to the Colonia Tovar.
A visit to the Colonia Tovar
Before going to the Colonia Tovar, keep in mind that you are going to a little village with a lot of German culture and customs. You are going to live a truly German dream with its restaurants, German beer, sweet jam and the popular strawberries and cream.
Its 60 ºF weather makes this place unique since it is located at a height of 1.800 mamsl. Likewise, its astounding landscapes will let you see almost all Aragua city. Plus, you can visit its remarkable church, museum and buy some handmade souvenirs.
You can stay at one of its many hotels, inns and cabins (for bigger groups). If you are lucky, you can catch a discount or accessible prices in low season or during weekdays. Normally on weekends and high season is more expensive than other days.
Things to do in the Colonia Tovar
There are plenty of activities to do in the little German spot of Venezuela besides taking a walk through the town, buy flowers and fruits (strawberries are the best), and vegetables. Here are some of the things you can do, to name a few:
Picacho Codazzi and la Picacho Cross:
This is the highest point of the Colonia Tovar. Its top is located at a height of 2.425 mamsl and you can find the famous "Picacho Cross" which is the highest lighted cross in Venezuela.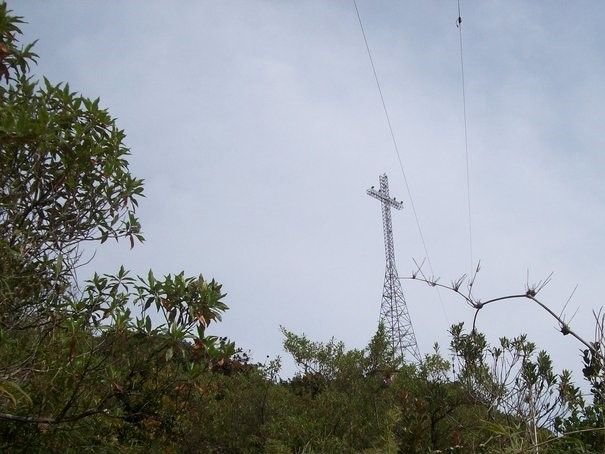 If you want to see the cross itself, you need to take a 30 minutes walk through a path leading the road that goes to La Victoria town. At the top, you will see a panoramic view of all Colonia Tovar and the Caribbean Sea.
Great Cedar:
With 164 feet tall, 72 feet perimeter and 100 years old, this huge and magnificent tree is very popular in the Colonia Tovar. To see the famous cedar, you need to walk through a 328 feet path from the road leading to La Florida.
Puerto Cruz and Puerto Maya:
At the entrance of the little German spot of Venezuela, there is a branch point that leads you to Puerto Cruz and Puerto Maya. Here, you can see two of the most amazing beaches of the Caribbean.
Petroglyphs:
In Tovar city, there are more than 5.000 petroglyphs (native writings on stones) with many different designs. These drawings are to honor the native ethnic groups such as the Panariguas, Curinares, Teques and Quiriquires.
Carnival in Colonia Tovar:
You can enjoy the funny carnival in the Colonia Tovar, where the Joliki, an adorable harlequin wearing a red fringed dress with bells, shows the spirit of the carnival.
Holy Week:
This week is pretty fun if you have children. In the Colonia Tovar people tend to paint and make nests for the arrival of the Easter Bunny with the Easter eggs. Godparents give their godchildren the öschtra galt or the öschtra packli which is a package full of Easter eggs, candies and money.
Location and how to get there
Colonia Tovar is located on the outskirts of Caracas, leading to the West and after crossing the Maracao National Park. To get there, if you come from Caracas, it is recommended that you take Los Teques route. Most roads are traffic free and it's worth the trip.
You can also take the subway or a specific bus that goes to Maracay city. After that, take another bus and ask the driver to drop you at the Colonia Tovar. Be careful with your belongings and enjoy the little German spot of Venezuela.